"Oh God, what's happened to you up there?"
 That's what Leigh Ewin's mom asked her son when he told her he's bringing cold exposure workshops to Australia. Born and raised in a country that many in the Nordics consider the dream, how does one choose to move to the Northern Hemisphere and, quite literally, turn the cold into a living?
 It is a classic story, one like many others. Having decided to leave Australia in 2006 to see what Europe has to offer, in London, Leigh met a lovely Finnish lady with whom he decided to make his way to the land of the thousand lakes.
Arriving in Finland, he had no expectations of what it would be like. Love refugees as they were, eventually the relationship ended, forcing Leigh to make a tough decision: should he stay or should he go?
"If I'm not there yet, I'm not far from"
 He stayed. Today, 11 years later, he's living his dream, coaching people around the world in conscious breathwork and cold exposure.
–Had someone told me I'd be moving to Finland to teach Finns how to deal with the cold, I'd have laughed them straight up their faces. No way in the world, says Leigh.
He's trained with some of the world's best breathwork evangelists, and spent years exploring breathwork techniques to aid in anxiety, pain and stress relief, work that has later branched out into sports and athletic performance.
It all started with cross-country skiing. Soon thereafter, Leigh was introduced to the Finns' pride, the sauna, which oftentimes comes coupled with a body of water. It did not take long before it was time for avantouinti or ice swimming.
Adapting to the cold
Upon his arrival in Finland, Leigh remembers how he used to look out through the window and wonder "when that white stuff is going to disappear" (referring to snow). One day in October, he asked his colleagues if they were having a late summer that year. They did not get his question.
"What do you mean? We're in fall now."
"Oh, so you mean summer was those three or four days of 20 degrees?"
Over the past 11 years he believes he's experienced every kind of summer Finland has to offer. As for this one, the current temperature (16–17 degrees) is equivalent to winter in Australia.
 –I guess you could say I came here for the love but stayed for the weather. People ask me if I'm crazy, like how can you love winter, but it's not like I love it. I just have a relationship with it, Leigh adds.
Something that's helped him along the way, also with dealing with winter, is breathwork. For a long time, people would tell him to meditate. It'll help, they said, but "just sitting there" didn't really work for him.
It wasn't until he came in contact with different breathwork techniques that things changed. Suddenly, he got it.
Stress management through cold exposure 
At the time of the interview, Leigh has just received his Wim Hof Method Level 2 certificate. Wim Hof is a Dutch extreme athlete who holds a total of 26 Guinness World Records, most of which are related to cold exposure.
 Leigh started training with the Ice Man, as he's called, about 2 years ago, and has ever since helped people deal with the cold, in Finland and abroad.
– We're not really involved with the cold anymore. Indoor temperatures are regulated, and we're feeling unhappy and unfulfilled. In today's world, it's not uncommon to run into comfort – be that the warmth of the inside of a house, home, or sauna, Leigh explains.
Having always been in and around sports – gone to a prestigious sports college, played competitive basketball, and spent a lot of time training in the gym – Leigh realized he's quite good at stressing himself out.
 While chronic stress can be fatal, controlled bursts of stress actually help us grow stronger. That's precisely what cold exposure is – a controlled burst of stress. This is called hormesis, where a short stressor can spark the body into creating more cells and even changing the way our neurons talk to each other.
Teaching people how to deal with the cold is therefore a way to teach them how to better manage stress – the health epidemic of the 21st century, according to the WHO (2018).
– It took a little while for people to get what I'm trying to do. I mean, we're in Finland – people think the cold is embedded in the genetics of Finns, like they should know what to do. They have, after all, grown up with the cold, Leigh explains.
It's not always that easy, though.
Embracing the cold is good for us 
Leigh encourages people to work with the cold, and to really embrace the sensations it brings forth. Our bodies know what to do; our toes feel cold because our bodies direct the warm blood close to our vital organs.
Never before have we known so much about the human body based on science. Neither have we ever had so many sick people. Whether it's inflammatory issues caused by stress or autoimmune diseases, cold exposure often comes up as a treatment method. Just Google it.
– So often nowadays we outsource our power to technology or the like. We put our health in the hands of trained professionals who see us for 20 minutes every two years and make an educated guess of what's "wrong" with us. They don't know us the way we know ourselves. I like helping people experience their inner strength and tune in with their body, he explains.
Finland is the perfect place to start 
For those of us who are curious to give it a try, cold showers are an easy way to start. The key is to take it little by little, starting out with the last 20 seconds cold, then slowly increasing the time. In fact, most people who attend his workshops end up incorporating cold showers into their day. It's almost as if it's addictive.
Another thing to try is simply walking around barefoot in the garden. Then comes ice swimming.
– We really have the perfect environment here. Finnish people love nature, they love their sauna and mökki (summer house). Cold exposure tickles the fancy of all those things, it just takes a little bit of open-mindedness to get started, Leigh smiles.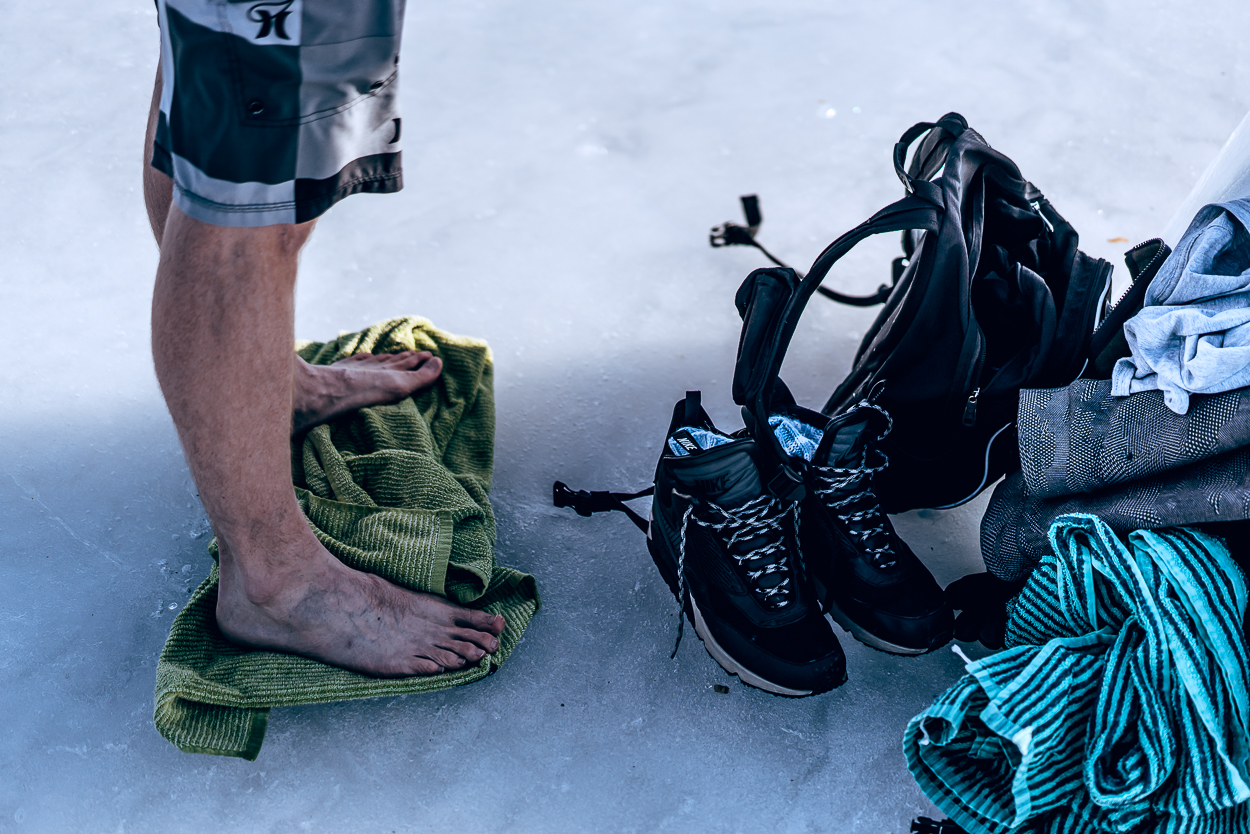 At first, cold exposure was mainly a thing for the biohacking community. Lately, Leigh finds that an interesting shift has taken place as younger people have become increasingly interested in the cold in recent years.
 Why, one might wonder. Because once you've started, there's no going back.
– Generally speaking, people know it's good for them. We just need a hand to hold every now and then, which is only human. I guess it gives people hope if the Aussie guy can do it. After all, I've definitely not grown up with it, Leigh says and laughs.
Combining the best of both worlds
 When first coming to Finland, it was a big punch in the face when he'd cheerfully say hi to people at the bus stop and ask them how they're doing, and they'd look at him like "who's that weirdo."
Fast-forward ten years and a bit, and he doesn't mind his own space. The so-called negative things, like the 1.3 meters in between people at the aforementioned bus stop, the fact that no one talks to each other, not to mention the weather, well– he's actually come to like those things.
– Thinking back at the time when I was staying on a friend's floor for 11 weeks, in survival mode, all by myself… That was tough, Leigh recalls.
Now, he's dreaming about buying his own summer house and creating a retreat center. Down the line, the ideal would be to have a beach house in Australia, too, and hop and skip between the two while teaching workshops all around the world.
For now, though, things are well just the way they are.
– It's just been such an amazing ride. I wouldn't change it for a thing, Leigh summarizes.
You can follow Leigh on Instagram @leighewin, and read more about his work at flowness.io.
Pictures: Mona Lisa Fiedler